__________________________________________________________________________________________
In ENGLISCH und DEUTSCH (bitte runterscrollen)
NEWSLETTER BY TAG/TRAUM film production Cologne in cooperation with EASTGATE MUSIC & ARTS Berlin
__________________________________________________________________________________________
The first feature-length documentary about Tangerine Dream
Dear Tangerine Dream Fans,
After nearly 50 years of band history, countless tours, albums and soundtracks with cult status, finally it will be realized: We are going to produce the first feature-length documentary about Tangerine Dream.
"To create something new one more time", under this motto Edgar Froese wanted to approach his last work. Our film project will start with the same slogan. In cooperation with the public TV channels ARTE, RBB, and the co-producer, Bianca Froese-Acquaye, our film production company TAG/TRAUM, will record Tangerine Dream's musical heritage.
At the beginning of 2015, we have already started a short documentary about Tangerine Dream, but the unexpected death of Edgar Froese, founder and constant member of this band, has decisively changed our perspective on the musical and cultural legacy of Tangerine Dream. We just don't want to cherish their history but also Edgar Froese's long-lasting lifework.
In order to meet the new requirements we would like to change from a short to a long documentary (from 60 now to 90 min), which includes interviews with famous artists, Edgar's companions, and collaborators like Michael Mann, Volker Schloendorff, Brian May, Paul Brickman, Jean-Michel Jarre, Jim Rakete and many EX-TANGERINE DREAM musicians as well as current members of the band etc. Additionally, we like to publish yet unseen footage of Tangerine Dream and Edgar.
But to meet this challenge we need you. We like to offer you the unique opportunity to become part of the production by supporting our crowdfunding campaign on Kickstarter.
Crowdfunding means the practice of
funding
a project or
venture
by raising money from a large number of people who
contribute
a relatively small amount, typically via the internet. Artists, event organizers or young entrepreneurs present their projects and name an amount of money ("funding goal") they need for the realization of their ideas. The supporters will get a gift in exchange for their financial contribution. Internet platforms, more precisely, crowdfunding sites like Kickstarter will bring project operators and supporters together and are responsible for safe transactions and transparency for both sides.
Our crowdfunding campaign is not meant as an exchange deal but the knowledge of participating in a unique project.
The crowdfunding campaign about the Tangerine Dream documentary is going to start on 1st May and will go till the end of the month. Following this link you will get to our KICKSTARTER page:
bitly.com/kickstarter-
tangerine-dream
.
If you want to keep in touch with us, please sign up for our special newsletter here:
Now, you already have the possibility to share your ideas or to leave a feedback. We are looking forward to it. If you have further questions or want to chat about your favorite band, please visit our social networks Facebook, Twitter, and Google+.
We are confident to reach our goal with you as our support. Thank you very much.
PS: More interesting NEWS on TD (PART II) will come in a couple of days!! Please stay tuned!
PSPS: Who have not heard about the future TD sound museum yet, just have a look to the video

here: www.tangaudimax.com
________________________________________________________________________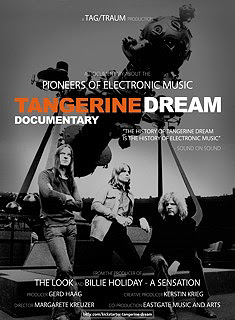 _____________________________
______________________________
____________________
Newsletter von TAG/TRAUM Filmproduktion Köln und EASTGATE MUSIC & ARTS Berlin
Erste Langversion eines Dokumentarfilms über Tangerine Dream
nach fast 50 Jahren Bandgeschichte, unzähligen Tourneen, Alben und Soundtracks mit Kultstatus ist es endlich soweit: Wir produzieren den ersten Dokumentarfilm in Langversion über Tangerine Dream.
"Noch einmal etwas Neues schaffen", so lautete das Motto, unter dem Edgar Froese sein letztes Werk angehen wollte. Unter diesem Motto steht auch unser Filmprojekt! In Zusammenarbeit mit den Sendern ARTE, RBB, WDR und der Ko-Produzentin, Bianca Froese-Acquaye, möchten wir, von der Kölner Filmproduktion TAG/TRAUM das musikalische Erbe von Tangerine Dream festhalten.
Anfang des Jahres 2015 haben wir mit der Produktion einer Kurzdokumentation über Tangerine Dream begonnen.
Durch den unerwarteten Tod von Edgar Froese im Januar 2015 hat sich unser Blick auf das musikalische und kulturelle Vermächtnis von Tangerine Dreamentscheidend gewandelt. Fortan sollte nicht nur ihr Werdegang, sondern auch das fast 50-jährige künstlerische Wirken von Edgar Froese und der Band festgehalten werden.
Damit wir dieser neuen Aufgabe gerecht werden können, wollen wir von einem kurzen zu einem langen Dokumentarfilm übergehen. Ein Teil dieser neuen Zielsetzung ist es, namhafte Persönlichkeiten, Edgars Wegbegleiter und Kollaborateure wie Michael Mann, Volker Schlöndorff, Brian May, Paul Brickman, Jean-Michel Jarre, Jim Rakete und viele Ex-TANGERINE DREAM-Musiker sowie aktuelle Mitglieder der Band etc. zu Wort kommen lassen. Wir wollen bisher unveröffentlichtes Material zeigen und einen besonderen Blick auf diese Band ermöglichen. Doch um diese neue Herausforderung zu stemmen, brauchen wir Euch!
Wir möchten Euch die einmalige Gelegenheit bieten, ein Teil der Produktion zu werden, indem Ihr unser Crowdfunding-Projekt auf Kickstarter unterstützt.
Was ist eigentlich Crowdfunding?
Crowdfunding ist eigentlich nichts anderes, als eine Form der Finanzierung ("funding") durch eine Menge ("crowd") von Unterstützern. Beim Crowdfunding können Künstler, Aktivisten, Veranstalter und Unternehmer ihre Projekte vorstellen und die gewünschte Endsumme angeben, die sie für die Realisierung ihres Projektes brauchen. Die Unterstützer erhalten für jeden Beitrag eine Gegenleistung. Kickstarter stellt dabei eine professionelle Internetplattform dar, die Projektbetreiber und Unterstützer zusammenführt und sich um die Transaktionen kümmert. Dabei geht es stets um höchste Transparenz für beide Seiten.
Der Kern unserer Crowdfunding-Aktion ist weniger als ein Tauschgeschäft anzusehen, sondern vielmehr (als) das Wissen, an einem einmaligen Projekt mitgewirkt zu haben.
Unser Crowdfunding-Projekt zur Tangerine-Dream-Dokumentation beginnt am 01. Mai auf Kickstarter. Unter diesem Link gelangt Ihr direkt auf unsere KICKSTARTER-Seite:
Um alle Neuigkeiten rund um unsere Crowdfunding-Kampagne zu erhalten, kannst Du jederzeit unseren speziellen Newsletter abonnieren: bitly.com/td-newsletter
Ihr habt bereits jetzt die Möglichkeit, Eure Ideen oder Euer Feedback zu hinterlassen. Wir freuen uns auf Eure Beiträge. Falls Ihr weitere Fragen zum Projekt habt, Euch Ideen durch den Kopf schwirren oder Ihr einfach über Eure Lieblingsband philosophieren wollt, könnt Ihr uns auch über unsere sozialen Netzwerke von Facebook, Twitter und Google+ erreichen:
Facebook
: www.facebook.com/TANGERINEDREAM.OFFICIAL
Twitter
: https://twitter.com/td_documentary
Google+
: https://plus.google.com/117939774372574176802/posts
Wir sind der festen Überzeugung, dass wir mit Euch zu unserem gemeinsamen Ziel gelangen werden und die Dokumentation über Tangerine Dream und Edgar ein voller Erfolg wird.
Euer Team von TAG/TRAUM &
EASTGATE MUSIC & ARTS
PS: Weitere interessante NEUIGKEITEN über TD (TEIL II) werden in ein paar Tagen folgen! Wir halten Euch auf dem Laufenden!
PSPS: Wer bisher noch nichts vom zukünftigen TD Sound Museum erfahren hat, sollte sich dieses Video anschauen: www.tangaudimax.com
_______________________________
www.tangerinedream-music.com
www.edgarfroese.com
https://www.facebook.com/TANGERINEDREAM.OFFICIAL