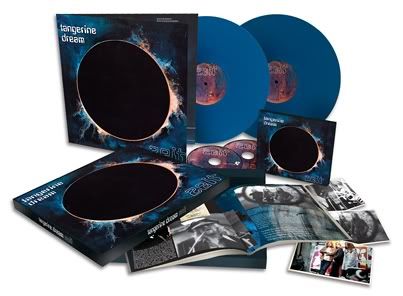 The LIMITED edition ZEIT Boxset is now available to pre-order from Esoteric Recordings, priced £55 + P&P (YOU CANNOT BUY THIS THROUGH AMAZON!). The full set comprises 2 x LP + sleeve (BLUE VINYL), 2 x CD, the second CD contains a recording of TD live in 1972 (Klangwald -'Sound Forest', Cologne - which has been remastered by Edgar in Vienna), 7" x 7" full colour book (with many scare photos, new essay including some memorabilia that's never been seen before), Scarce OHR records insert (12"), 3 x postcards (two replicate the promo postcards that OHR/ Metronome produced. All in a large boxset reproducing the look and feel of the original issue of Zeit. The photo gives you an approximate idea of what's in the set (although the colour of the vinyl might be different when the set is released).
PRE-ORDER HERE
NB: the photo is Phil Smee's mock-up of the finished set, therefore the final package may look slightly different.
PLEASE NOTE THAT THE COLOUR POSTCARD HAS BEEN REPLACED - BUT THERE STILL WILL BE 3 POSTCARDS IN THE SET!